I make fleece pull-ons for my little ones, and love these covers for both day and night.
If you use Polartec or another outdoor-gear level fleece, you will need only one layer.
If you use thin fleece, you will need at least two layers.
Cut into triangles and make similar to the wool version below.
You can add elastic at the waist and legs, or cut the rib knit off the bottom and cuffs of an old sweater to sew on.
For wool pull-ons, recycle old sweaters - if you don't have any to use, check out the second-hand shops!
You could also buy/find cheap pull-ons, cut them apart and use them as a pattern. Good luck!
Thanks to Lauren for this Frugal Baby Tip!
---
You'll need the following to make a baby butt sweater:
• Old wool sweater. One with no holes will make two covers.
• Elastic
(1/4 inch wide)
• the obvious sewing machine, thread, scissors, etc.
• Ten minutes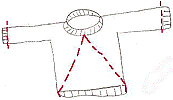 Wash
(on hot)
and dry
(on hot)
the sweater at least 2 or 3 times, until it is pretty well shrunk.
This step not only felts the wool, making it quite waterproof but also allows the butt sweaters to be machine washed and dried without shrinking.
Lay the sweater out on the floor. Cut off the sleeve cuffs and neckline.
If the sleeve cuffs are very long, only cut off a few inches of them.
You're not making pants!
Cut the neckline piece in half.
Set aside.

From the front of the sweater, cut out a large triangle, with the bottom being the hem of the sweater, and the top point being up at the neckline.
Do the same from the back.
Discard sleeves, or save for another project.
Lay the sweater-triangle down so the waistband is on top, and the triangle points down.

Fold in the two top corners to meet each other.
Fold the third corner
(the bottom one)
up to almost meet the other two.
Pin.
This will create two seams, each starting at the top center, and extending downward at a diagonal.

Sew each of these seams, from the top, stopping about 4" from the bottom
(less for skinny-legged babies).
The open spaces are the leg holes.
Trim the leg holes as necessary.
Sew in the sleeve cuffs to finish the leg openings.
If the waist is not snug enough, sew the ends of a piece of elastic
(long enough to fit snugly around child's waist)
together, and slip over sweater like a belt.
Fold top edge over to encase elastic and sew down.
Voila!

Finish the second one the same way, except first sew the ends of the neck-piece together to make two small circles.
Use those to finish the leg holes.
Drawings by Angela from BorntoLove.com - All rights reserved
---
Category: Diaper Sewing