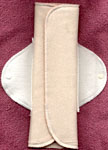 Thanks to Kathryne for this Frugal Baby Tip!



I used cloth pads for about a year before I got pregnant. I LOVED them. I will definately go back to using them and take some of the bigger ones along to the birth center with me when I have my baby. They are soft, super absorbant, and I no longer get that terrible rash (not mention all sorts of other unmentionable things with disposables -- UGH.)



And in my opinion, cloth smells completely different, much more earthy, not at all fishy like disposables. I soak mine in cold water for a day, empty, then put them in a dry bucket and wash them with my underwear when I wash laundry once a week (that'll change as soon as the baby comes, I know).



I have Gladrags which are unbleached cotton, so stains are more noticable. You can get prints which I don't think would show stains nearly as much. I like Gladrags, but I haven't tried others. I saw one site on the web for ones you could even wear as a thong!



The only thing I don't like is if I run out and have to use a disposable ---- ICK!!!! I was about to buy more when I got pregnant, so... I'll get some before March.

If you liked the look of the Gladrags, you can find instructions for making your own look alike ones at Many Moons: http://www.pacificcoast.net/~manymoons/howto.html

Recent Keyword Searches:
baby tips
,
soft well water tips
,
witch hazel babies
,
sew fleece into prefold
,
cloth diapering
Category: Mom Clothing