Photo by www.borntolove.com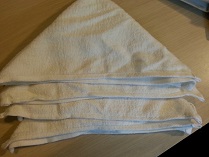 Thanks to Tammy for this Frugal Baby Tip!

I think I said this on the other list, but terry loops are great for "catching" poop. Try lining his next diaper with a terry washcloth and see what happens... but make sure fabric softener wasn't used on it.

I bet you'll be pleasantly surprised.
Category: Diapering