I have some trim fitted flannels I made - I add doublers to for added absorbency.

When I ran out, I tossed in one of those cheap terry washcloths (which I use as wipes) from Costco we all were talking about a while back.

Anyhow... tonight I got to thinking that I could use them as a poop catcher too...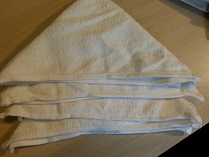 Especially since when I used the disposable diaper liners the other day I was feeling like...

This isn't what I use cloth for -- just so I can stick in a paperish synthetic thingie next to my son's skin.

The washcloths are great so far...

I may splurge and buy some 100% cotton washcloths for this, but so far the cheapies are good.

Thanks to Elke for this Frugal Baby Tip!


---
Category: Baby Wipes, Diapering