Mom Clothing: Make-Your-Own Cloth Menstrual Pads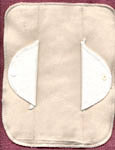 Here's one for Mom today! Cut out three layers of 100% cotton fabric (i.e. flannelette or terry cloth) into an 8.5"x10" (21.5cm x 25cm) rectangle. Round corners. Pile together.

Stitch all around, using either a zigzag stitch or a serge stitch. Cut out two wings 6"x6" (15cm x 15cm), shaped like this =O=.

Fold each wing in half, and zigzag or serge stitch all raw edges. Center wings on the pad, about 2.25" (5.5cm) from either long edge, with straight edge of wings facing straight edge of the pad. Looks something like this [_[)(]_], though the wings will be overlapping.

Sew a straight seam, catching in the wings, 2.5" (6.5cm) from both long edges. Either sew Velcro® on wings or use hammer-on snaps. Fold the pad in thirds, and fasten the wings underneath the fold.

Now you have a super-absorbent 9-layer menstrual pad that opens up for easy washing and quick drying!

Thanks to Catherine for this Frugal Baby Tip!
Category: Mom Clothing